The History of our Annual Event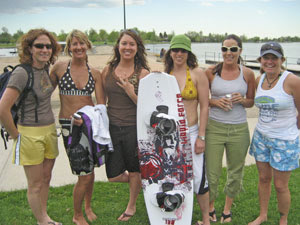 An event started by wakeboarders, The MileHigh Meet & Greet is a gathering of all the wakeboarders in Colorado.
Its main purpose is for wakeboarders to get together, meet each other, and ride together all summer. And for those that already ride together, it's an opportunity to reconnect with one another for the summer.
It allows boat owners to find thirds, and for those who don't have boats to find a ride and/or join a crew. Most of the major wakeboarding markets have an event that kicks off the season, for us it's the MileHigh Meet & Greet!
The MileHigh Meet & Greet started in 2005 with a group of guys who did not know one another, but were all a part of Wakeworld. Someone posted on Wakeworld about the need for us to get together and meet each other. We decided to meet at Chatfield Reservoir in May of 2005. Someone coined it a Meet & Greet. Later MileHigh was added, and for fun we called it the MileHigh Meet & Greet. That first year we had about 25 people and 5 boats. The following year as the snow began to melt, there was a renewed interest in doing it again. And from that the MileHigh Meet & Greet was born!
Come out, get a pull, have some food, win some prizes, and meet other wakeboarders in the Colorado wake scene.